Thank you for all your Donations & Support!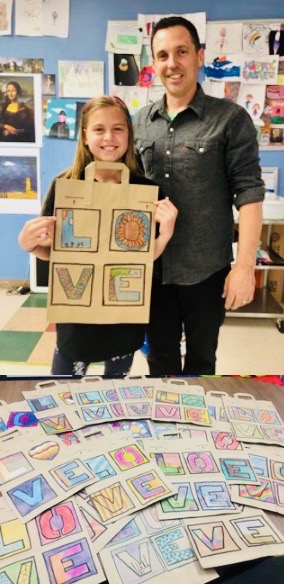 After learning more about There With Care through neighbors, Ryan Flaherty and her Mom have been volunteering regularly. Ryan is an active 5th grader and attends Buffalo Ridge Elementary in Castle Rock, CO. Ryan asked her Art Teacher, Timothy Ryckman for help with a project for her charity using Art. When she told her teacher they could decorate the grocery bags for the families that receive supplies from There With Care, he immediately agreed to help.
Mr. Ryckman said, " Before we began the project, I looked at the list of words we could include on the bags and the word LOVE jumped out at me. I decided to turn the project into an Art lesson about a pop artist named Robert Indiana who created a famous sculpture and painting with the word LOVE. We borrowed his style for the bags and they turned out great." Thanks to Mr. Ryckman and his Art Students at Buffalo Ridge Elementary, 150 bags were decorated to provide a personal touch for those families experiencing stress due to a medical crisis. If your school or organization would like to show you care through Art, send a request for bags to There With Care on www.therewithcare.org.
There With Care's mission is to provide a wide range of thoughtful and fundamental services to families and children during the critical phase of a medical crisis. They serve families referred by medical agencies, by building a network of services and people who ease the burden of life's day-to-day obligations with compassion and care. For more information go to www.therewithcare.org.
The Babes go to TWC in Boulder
Bin Babe Celebration - October 2018
Back to School Backpacks 2018
2017 Bin Babe (and baby) of the year
A few photos of all our Fun times - Bin Blessed!
Valentines Day Fun
Raising Halloween Custumes for the kids
A few photos from our Event to Support There with Care - September 2015